Our Services
At AM we specialise in hand made vulcanised articles and have an expert team of coat makers who use techniques that date back centuries.
We also create machine made pieces that include:
Soft Tailoring
Outerwear
Workwear
Mens and Womens ready to wear pieces.
We can offer CMT manufacturing allowing our clients to retain full control over the creation of their order or fully factored manufacturing which means that we can handle all tasks from start to finish for example sourcing and purchasing materials for making the articles.
We can also offer pattern cutting and full grading in house.
With our new complimentary digital technologies we can offer 3D/4D pattern services.
Our Handmade Process
Hand Cut

Our specially made rubber bonded
(vulcanised) cloth is hand cut, just as Thomas Hancock did in 1843. This allows for great accuracy in the garment and pattern cutting process. Traditional shears are used throughout our handmade process.

Glue

We use specially formulated natural rubber solution to ensure each garment is 100% waterproof and protects the end-user from the harshest of weathers. We have a long-standing partnership with our supplier to ensure quality is never
compromised.

By Hand

The index finger is the most important tool used in the making of our handmade coats. Each coat maker trains for 7 years to ensure the correct amount of rubber solution is loaded onto the finger for spreading (a process known as smearing) of all seems and hem lines.

Tape

Vulcanised cotton tape is applied by hand, over the glued interior seam to ensure a fully-waterproofed garment. This technique is used for flat sections such as sides and shoulders however arm holes require the aid of a wooden domed tailors block for support underneath the garment.

Finish

Traditional tools are used to finish each garment. The roller applies pressure along the interior taped seam to ensure the tape is firmly bonded to the glue. The cleaner is used to remove any excess glue that may have spread outside of the tape, resulting in a clean and finished interior of the garment.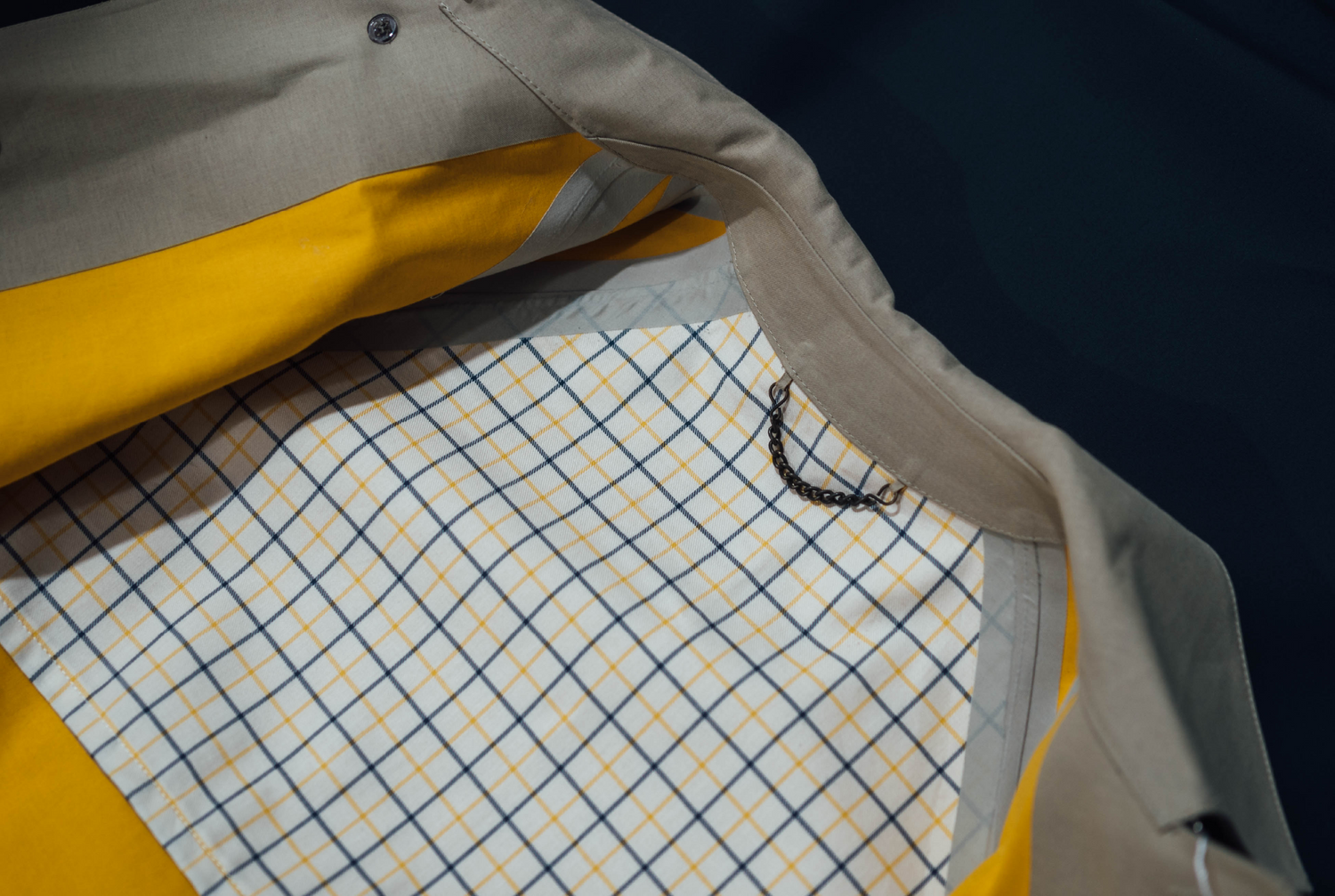 New services with our new technology
Our new exciting 3D/4D technology in the factory allows us to take our clients patterns and digitally sew them together to give them a better understanding of how the articles look before even turning on a machine or going to the cutting table.
Once we have a 3D sample of our clients article we can then render it in the 4D software which allows us to scan in their fabrics to see exactly how the concepts look as shown to the left hand side.
This allows us to save our clients time and money producing numerous samples before production and allows us to cut down on waste within the factory helping us to become a more sustainable business.
If you would like to find out more about our exciting new technology at Alexander Manufacturing you can read the article in our Journal Here!
Journal